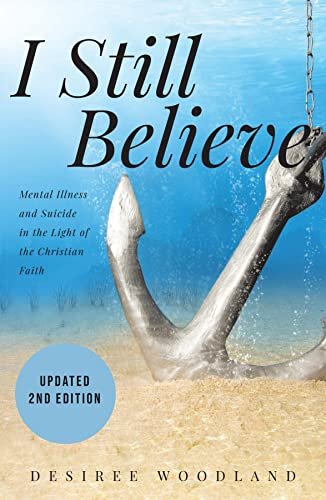 Faith is not wishful thinking, but through the fire, it becomes a faith that is real. I Still Believe is Desiree Woodland's struggle for an enduring faith to withstand the death of a child even after suicide.
The book follows a mother's search to make meaning out of her son's suicide and find a way back to a faith that no longer made sense. As survivors feel their way through the dark maze of emotions, they need the support of others who have walked the path before them. This story can help to shine a light, for hope and faith to germinate in the soil of grieving hearts.
Recent Reviews
Excellent Resource
This book has been an invaluable resource to me, as a parent who has lost a child, and to others that I have given copies to – Desiree beautifully expresses what so many of us have experienced during this journey of grief. And she reminds us that yes, life is different now and we are different now, but the God over all is unchanging and it is through our loving Heavenly Father that we are comforted and strengthened and motivated to even help others as we have been helped. And we still believe.
– D.J. Warren
A wonderfully heartfelt and touching book.
This book has touched the hearts of my husband and me. It has resonated in many ways as my son also suffered from schizophrenia. Faith is playing a major role in our own journey as we face life without our son. I have gone back and re-read different parts of the book, especially on those difficult days that we all face. I have cried and at the same time found peace and comfort in the beautiful and eloquent words of the author.
– Renetta Torres
Even though the story is full of struggle, it is also full of hope.
Desiree's story has touched so many people. Her kindness for everyone she meets, even in her own sorrow is a gift to this world. Her son and her family's struggles told as only a mother can share will break your heart and mend it at the same time. An amazing woman, writer and most of all MOM to Ryan.
– Debbie J.
About the Author
Desiree Woodland and her husband Gary live in Albuquerque, New Mexico. Ryan will always live in their hearts, while their daughter and amazing son-in-law live in Portland, Oregon, with a grand dog. Retired after nineteen years of teaching, she also holds a master's level certificate in Grief and Loss. Using every opportunity to speak in the community about the stigma of mental illness and suicide she is President Emeritus for the board of Breaking the Silence NM. In addition, she serves on the board of Survivors of Suicide ABQ and facilitates a Survivors of Suicide Mothers group. As a long-term survivor of Ryan's suicide she believes that one's deepest wounds integrated become one's greatest power. Finding meaning in Ryan's death is a life-long endeavor.