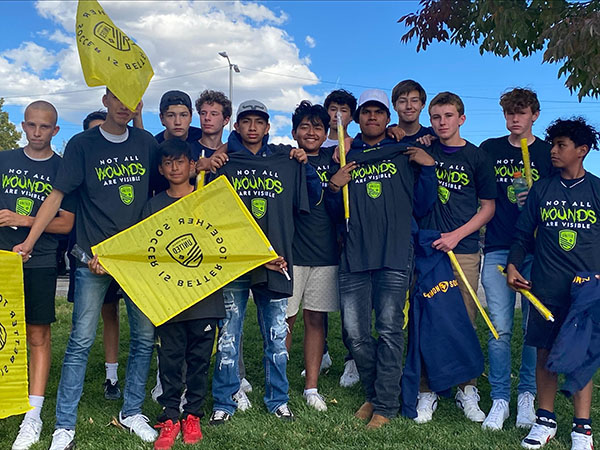 The weekend of October 10 was jam packed with celebrations in honor of World Mental Health Day.
The overall objective of World Mental Health Day is to raise awareness of mental health issues around the world and to mobilize efforts in support of mental health.
The Day provides an opportunity for all stakeholders working on mental health issues to talk about their work, and what more needs to be done to make mental health care a reality for people worldwide.
In Albuquerque, this day was celebrated by Breaking the Silence NM through the efforts of some wonderful community partners.
On Friday Villa Myriam (VM) Coffee held a fundraiser at their downtown location where they donated 10% of sales, all day, to our programming.
On Saturday, NM United and Somos Unidos Foundation debuted our film interviewing Forward, Devon Sandoval discussing his struggle with Depression and Mental Health. This compelling film was shown on the Jumbotron at halftime to a crowd of almost 10,000 fans.
Members of Breaking the Silence NM staff were at the tailgate giving away our new T-shirts commemorating our partnership with NM United and the foundation. Emblazoned across the front of the shirt? "Not All Wounds Are Visible". A truer testament to mental health we can't find. The cost of the shirts was underwritten by private donations and corporations and was a huge hit.
So many fans requested shirts while talking about how important our work was, how much they appreciate the fact that BTSNM is in the schools teaching kids about mental health, getting rid of its stigma and discounting myths. Many folks even donated right on the spot to support our work, which was so unexpected yet so appreciated.
And on Sunday, owners of Starr Brothers Brewing Company, Heather, and John Starr, committed a portion of their sales to BTSNM. They raised $1,500 in honor of World Mental Health Day and had all their staff wearing our special tees all weekend long to help raise awareness.
To say our community is very invested and supportive of changing the dialogue and awareness around mental health for our children is an understatement. Albuquerque showed up in a major way for World Mental Health Day and we could not be happier. This shows how much stigma is being replaced by education and advocacy.